1986: The End Of An Era
---
THE DENT OF 1986
This is what happens when you park diagonally in a driveway behind your father's
work truck (especially if your father has to leave for work during the pre-dawn hours).
I hold no grudge. Truth be known: I was parked kinda sideways, it was dark when he left,
and, most importantly, he did pay for the paint job in the first place.
The only thing that really irks me about this whole incident...
The contact point on his work truck was the passenger side
rear tail light reflector (a plastic lens).
Even with all of this paint and sheet metal damage to the Ranchero...
HIS TAIL LIGHT WASN'T EVEN CRACKED!
Score one (1) for Chevrolet.
$%#@*&!
This event, traumatic as it was, was only a harbinger of greater woe to come...
Later that same year...
THE ROD CAP FAILURE OF 1986
So, out came the engine...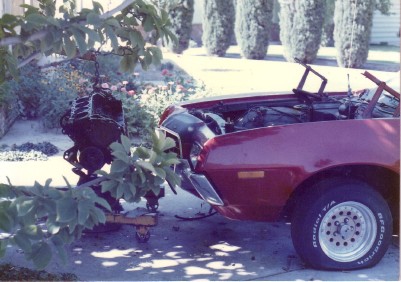 Postmortem Analysis:
Rod cap broke
Crankshaft revolved one more time
Crankshaft slapped rod through side of block
(ripping through the oil pan in the process)
Found On Road Dead
Since I was a poor college student at the time, she never
really got fixed. I finally bought a junk 302 small block
for $50, slapped it in, and sold the car for $500.
I then moved into the ho-hum world of the fuel
efficient 4 banger...
It's the dark blue Nissan next to the dead Ford
(as seen through the curious looking leaves).
My hot rod days seemed to be over...