A BLAST FROM THE PAST
A.K.A. Brad's 1972 Ford Ranchero restoration project
---
Would you buy this car on ebay for $1575.00?
Perhaps not.
Well, I did.
Why?
Because I have a sentimental attachment to the model...
Yeah, that's me (way back in 1982) doing a burn-out on a
residential street (an activity I wouldn't condone anymore).
Tire speed > 40 MPH: Car speed < 10 MPH
Unfortunately, the photographer was a little to quick on the shutter;
a few moments later, tire smoke was boiling out of the rear fender
wells in a quantity that would have made Don Garlits proud.
(I remember it, it was epic.)
But you know how moments are...
Here one second, gone the next.
Easily missed.
Anyway...
I LOVED THAT CAR!
(you always remember your first)
After the Emerald Green paint job had run its course,
I opted for something a little more obnoxious: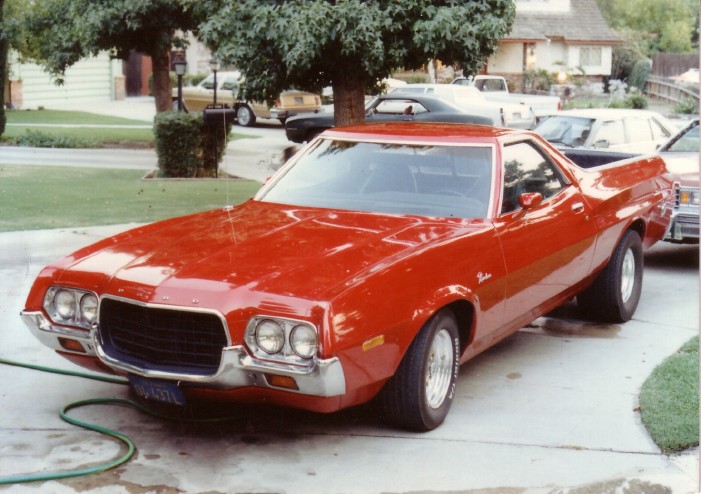 Yeah...
That's Candy Apple Red all right.
This was my old High School through Jr. College car.
Freshly painted, and freshly washed.
A thing of beauty...
It originally came with the 351C V8, but by the time this picture was taken,
we had transplanted a big block 429 and a C6 transmission out of a 1970 TBird.
It was quite fun, until...